Roadmap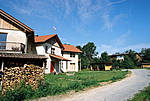 In the late nineteen-eighties the idea was born of a self-sufficient and self-governed ecovillage. The founding members moved into the "project center" in Groß Chüden from where they launched the ecovillage in Poppau. It is called Sieben Linden which is Seven Linden Trees in English. Since 1997, Sieben Linden has been growing bigger and bigger. So far, 100 adults and 40 children have settled here, building and living as a community.
Philosophy, Politics and Culture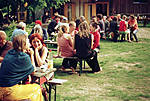 Climate change, economic crisis, exploitation of human beings and of resources… at Sieben Linden, we develop and test answers on pressing questions of our time. We share no common ideology or religion. Like a social microcosm, the diversity of our community reflects the basic issues of life. What connects us, though, is the focus on a life in harmony with the Earth und all other Earthlings.
Ecology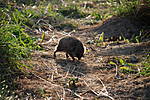 At Sieben Linden, the greater goal is a reduction of our ecological footprint in all aspects of life. So far, we have cut it down to 2,500 kg CO2-equivalents per head which translates into one third of the average ecological footprint in Germany. Resulting from our special focus on closed energy and resource cycles, it extends to the solar energy and hot water supply, to building with natural and regional resources like straw, clay and timber as well as to organic gardening for our food supply. Moreover, we enhance the populated area and its ecosystems by preserving and creating diverse habitats for flora and fauna.
Social Life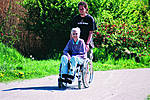 By living together we aim at integrating individual needs into the communal life every day. Transparency and trust building amongst us, true and attentive communication, mutual appreciation and broad-based decision-making are fundamental tools towards this goal. Living together in full awareness represents a collective learning process of humans of all ages and social backgrounds.
Economy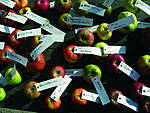 The communal project is a legal entity and stands on an equal footing. Land and infrastructure belong to the inhabitants as they are all shareholders of a co-operative. Our domestic budgets are our own responsibility. We seek for everyone to find their place in the whole. Thus, dispositions can become professions and new occupational challenges be embraced. Money entering the Ecovillage circulates here several times before leaving it again.
Dedication and Education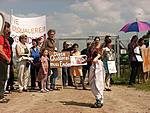 Responsibility for a future worth living on this planet doesn't end at the fringes of the ecovillage. Through different initiatives and networks many of us are actively involved in society. Experiences and knowledge that we accumulate in Sieben Linden are offered in seminars and participatory workshops directly to people from all over the world.
Publications on Sieben Linden
If you rather like to read in print or watch DVD, look here…